Your Stanislaus Grown
Since its beginnings in 2012, ESRCD has organized and managed the Stanislaus Grown Certified Farmers' Market to provide fresh, local produce to local residents. Stanislaus Grown is an ESRCD project proposal selected for funding through the USDA's Farmers' Market Promotional Program (FMPP) grant opportunity. The goal of this project was to build bridges of information between the producers and consumers so that everyone has access to fresh, healthy and locally produced food – from "farm to table." The Stanislaus Grown logo was designed for use by Stanislaus County producers to directly market their products as locally grown.
Why Buy Local?
Food standards have changed significantly over the years, and will continue to do so. Knowing where your food comes from is of increasing concern to consumers, but can be challenging with foods widely distributed from its origin. Distributed produce can travel hundreds, and sometimes thousands of miles, from its point of origin. This can cause products to lose crispness, flavor and even nutrients before it is eaten. Shopping at farmers' markets or participating in Community Supported Agriculture (CSA), and other direct to consumer opportunities removes the distribution factor, increasing freshness with products that are often picked within 24 hours of being sold. It can also make identifying the source for your favorite foods much easier, and more interesting. Stopping at a stall to buy your favorite fruits or vegetables often presents an opportunity to speak with the farmers who grew it. You can find out how it was grown, if pesticides or herbicides were used, or hear the stories behind the farms and learn about the generations of farmers who have come before those growing and selling the products now.
Offering dir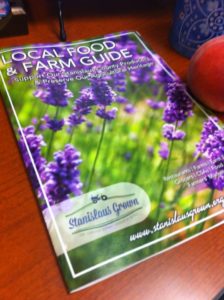 ect to consumer opportunities presents just as many benefits for the farmers. Distributors may not be an option for smaller scale producers, due to cost or simply quantity of their products. In farmers' markets, farm stands and CSA's, farmers control their product – they can easily ensure freshness and quality for their customers. And, it is rewarding to see the demand for their quality products first hand, meet their customers and share their stories.
Our farmers take pride in what they do. We have a strong agricultural heritage in Stanislaus County. As consumers, we can take advantage of that fact by supporting our farmers and buying locally, keeping our economy healthy, and our bodies, too.
More information is available on the Stanislaus Grown website, which provides a local Farmers Market list, a Food and Farm Directory, and more here